Alumni E-Newsletter, December 2018
Wier/Stewart gets social with FACS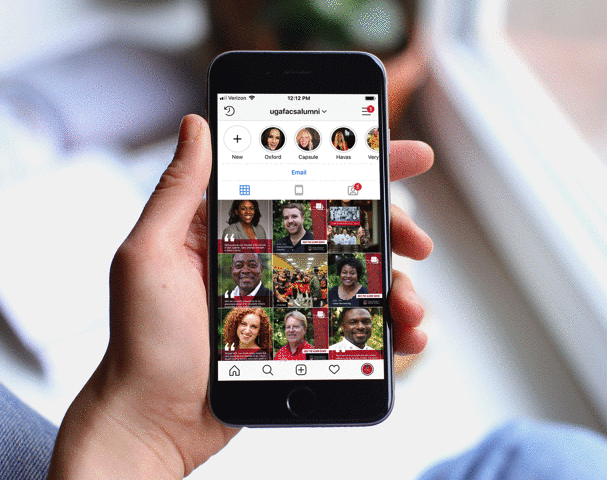 Wier/Stewart, an advertising and creative firm located in Augusta, GA, was tasked with creating a social content strategy and cadence for the FACS Alumni Association. Together with the alumni board, they have launched content campaigns on Instagram and Facebook. Their responsibilities include strategy, design, content scheduling, audience engagement and reporting. Learn more.
Wier/Stewart is owned by FACS alumnus Daniel Stewart, BSFCS '05 and UGA alumnus, Alex Wier, AB '97.
NCAA Woman of the Year to speak at FACS Alumni Association Awards event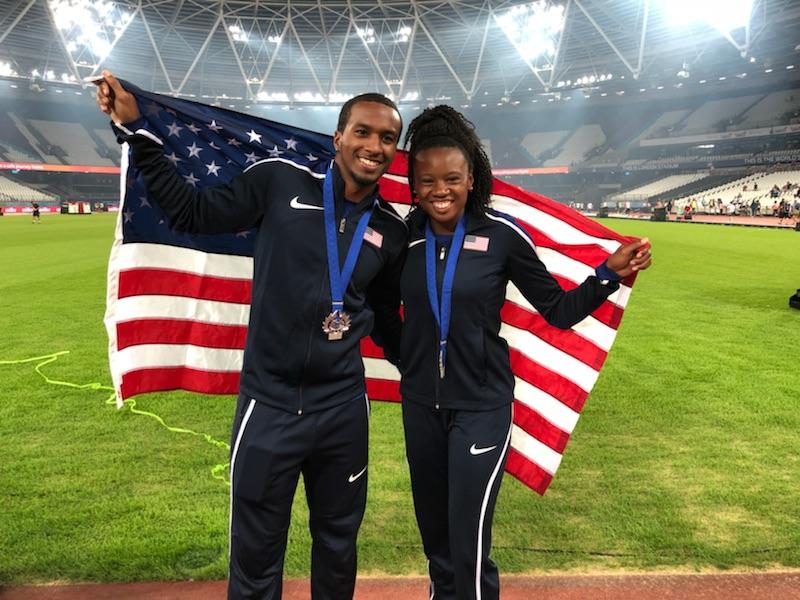 Plan to join us on March 2, 2019 for the 41st Annual FACS Alumni Awards event with special guest speaker Keturah Orji, a 2018 FACS grad and NCAA Woman of the Year!
We will recognize all of our Alumni Association award winners at the event and enjoy a time of fellowship and celebration.
Honorees will be announced next month!
Keturah Orji, a financial planning graduate and 13-time All-American, is working on her master's degree in kinesiology and training for the 2020 Summer Olympics.
Historic Home Management House B to be repurposed - we want your story!
In recognition of the Charles Schwab Foundation's generous financial support, the college will rename historic "House B" the Charles Schwab Financial Planning Center.
We are hosting a ribbon-cutting ceremony on April 11, 2019 – more details to come – and would like to hear from any FACS graduates who lived in any of the original home management houses during their time here.
We'd love to hear your recollections of your time spent living in any of the home management houses so we can share some of them at the ceremony and on our website.
If you have a story and/or pictures you'd like to share, please send them to FACSAlumni@uga.edu.
Seven FACS alumni named in the 2019 Bulldog 100 class
Congratulations to our seven FACS graduates being honored in the 2019 Bulldog 100 class for having the fastest-growing businesses owned or operated by UGA Alumni.
For more information, please visit https://alumni.uga.edu/b100/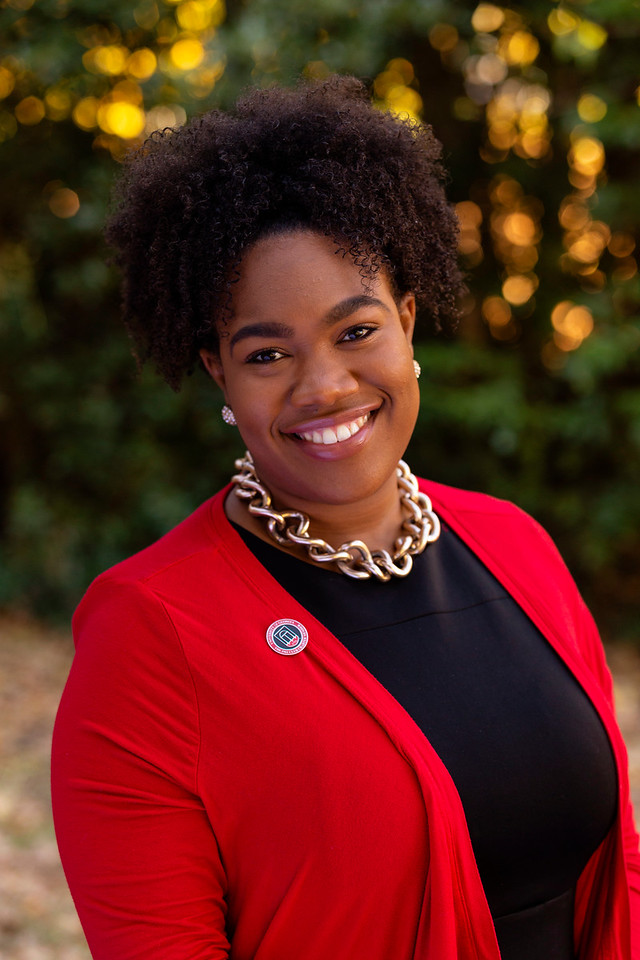 FACS alumna returns to the college
Kethia Booker Gates *BSFCS '12) joins the FACS external relations team as the Development Coordinator.
Kethia was previously the Engagement and Annual Leadership Officer in the Division of Development and Alumni Relations. She will develop and implement fundraising strategies in order to maintain and increase unrestricted and targeted annual support for FACS. Kethia is a Double Dawg, with a B.S. in Human Development and Family Science from FACS and a M.Ed. degree in College Student Affairs Administration from the College of Education.
Her office is in the FACS Dean's Office suite, Dawson Hall 224.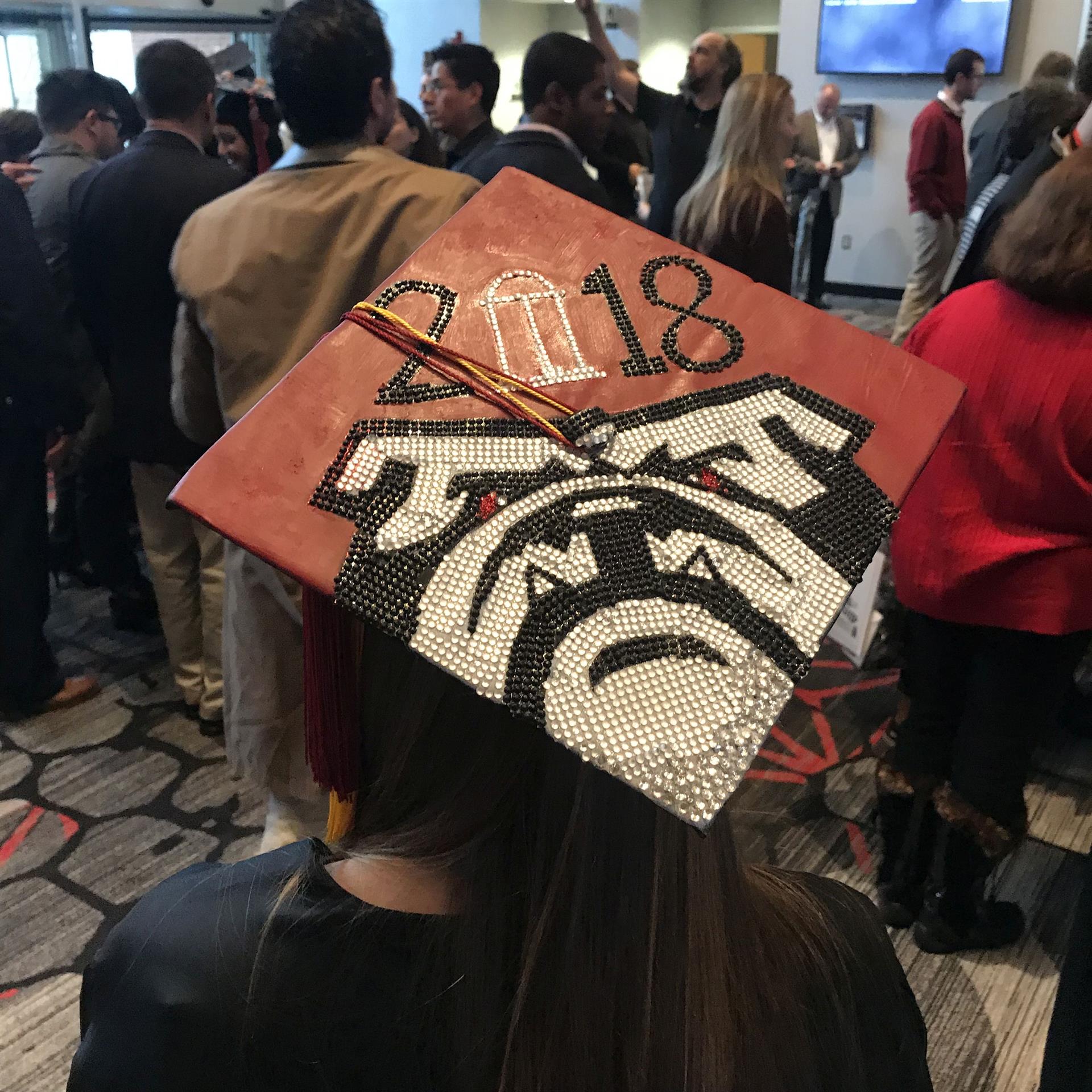 Congratulations to the FACS centennial class of 2018!
We recognized our fall 2018 centennial graduates at FACS Convocation on Friday, December 14. Click here see images from the event.
For profiles of some of our outstanding December graduates, visit our Flickr album.
Send us your news
Do you have good news to share? Have you recently received a promotion or special recognition? The FACS Alumni Association would love to hear from you! Contact us at FACSAlumni@uga.edu.

Saturday, January 26
Hyatt Regency | Atlanta, GA
Friday, February 1
Classic Center | Athens, GA
Thursday, February 14
Georgia State Capitol | Athens, GA
Registration opening soon
Saturday, March 2
Georgia Center | Athens, GA
Registration opening soon
Thursday, April 11
Charles Schwab Financial Planning Center Dedication
Athens, GA
Share your story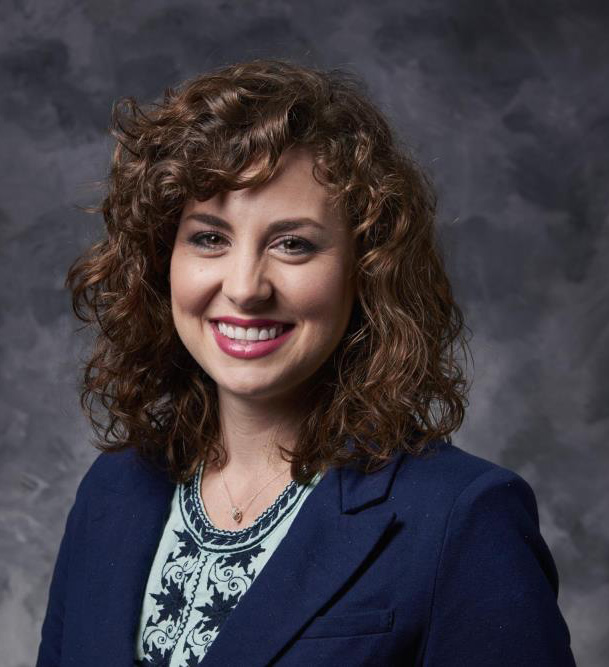 "I remember from the day I began Foundations to FACS in high school I knew that my heart would always be with FACS. I enjoyed every STAR event, cookie fundraiser, grand gala, and leadership meeting offered. I knew that I wanted a career under the umbrella of FACS, and have been so fortunate to still be working in the path I chose to study. I am seven years out of school, and life has moved so fast! I am in a stable job with a large design firm, have moved twice, gotten married, and started a family. I reminisce on the days I spent at UGA, and am so thankful for the relationships I built while I was there. The coursework, opportunities, and programs offered were well rounded and life enriching, but the relationships with Student Services, Alumni Relations, and the Dean's offices are where the heart of FACS lies. I am still in contact with the people and faculty that represented FACS during my tenure, and these relationships to me are priceless!"
– Savannah Dunson, BSFCS '11
Catch up with your department
Celebrating our past...looking forward to the second century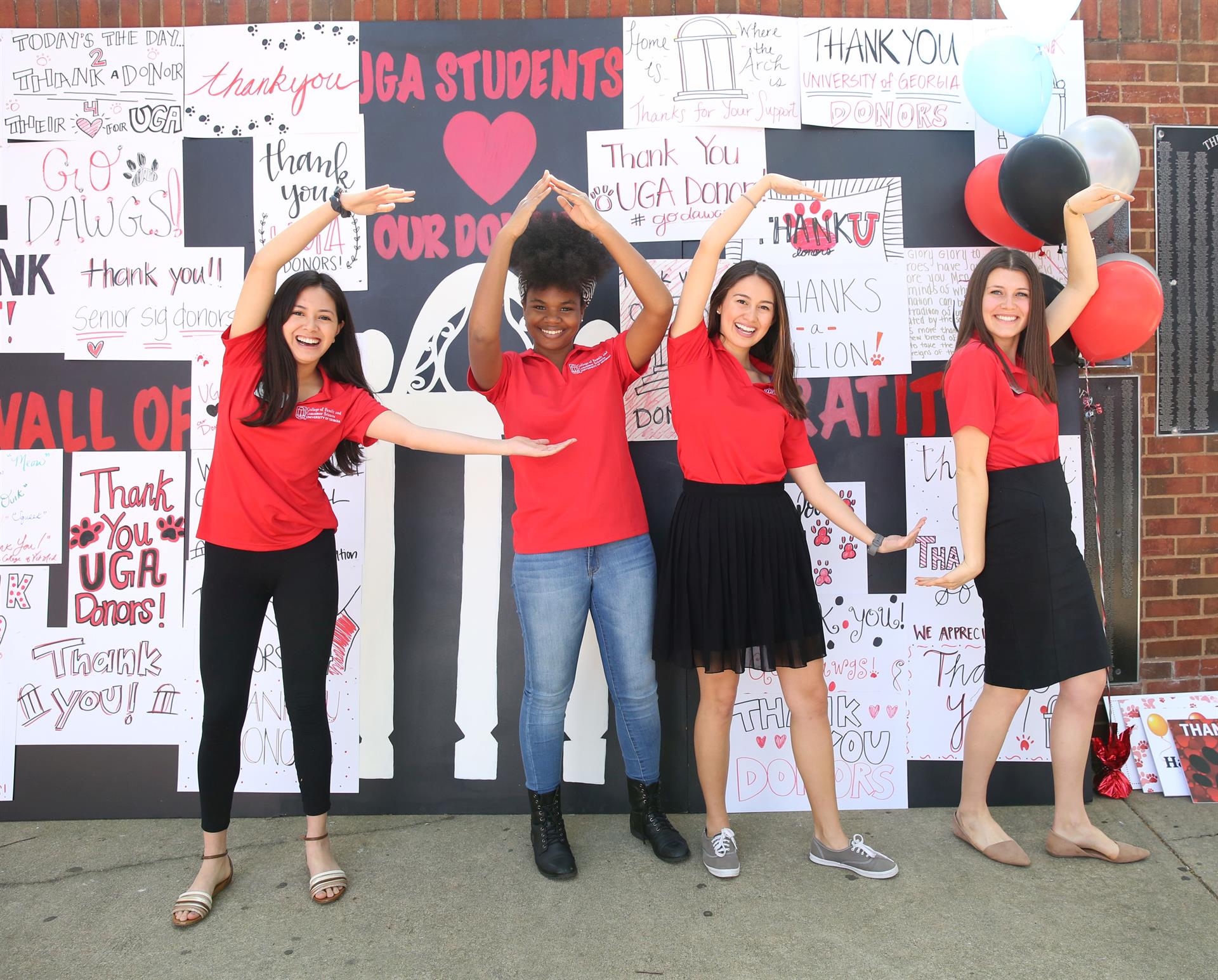 For 100 years, our students have benefited from innovative programs and exciting opportunities funded by our generous donors. To extend this legacy of learning into the second century, please consider giving to the Centennial Endowment for Student Success. Through this fund, students will receive support for activities involving student leadership, travel, professional development or any other opportunities that enhance the learning experience.
For more information, please contact FACS Director of Development, Tricia White at
706-542-4860.
Tartan for the holiday!
Collegiate Tartan offers high-quality apparel and accessories allowing you to show your colors the traditional way.
In addition to representing Georgia with style and sophistication, a portion of Collegiate Tartan sales is donated back to the Georgia Scholarship Fund.
Why Choose FACS?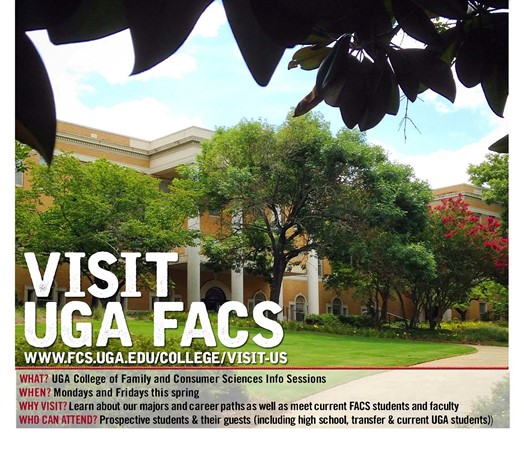 This spring, high school students around Georgia and across the country will be deciding if UGA is the right school for them. We would love to have these students consider FACS as they make their decisions. If you know a student who wants to make a difference in their communities and is interested in career areas such as business, counseling, culinary science, education, community development, fashion, financial planning, residential interior design, journalism, law, healthcare, non-profits, policy, therapy, and youth development, please share our FACS Info Sessions with them!
---